The hidden coves of Alconàsser and Es Canyaret. Discover the authentic Mediterranean.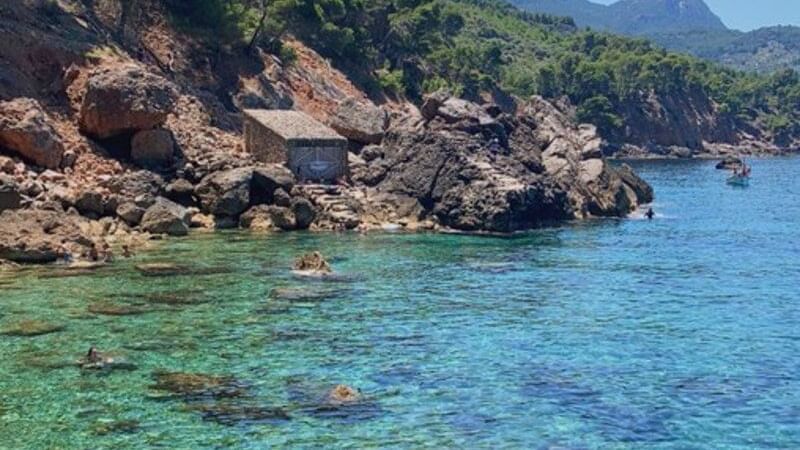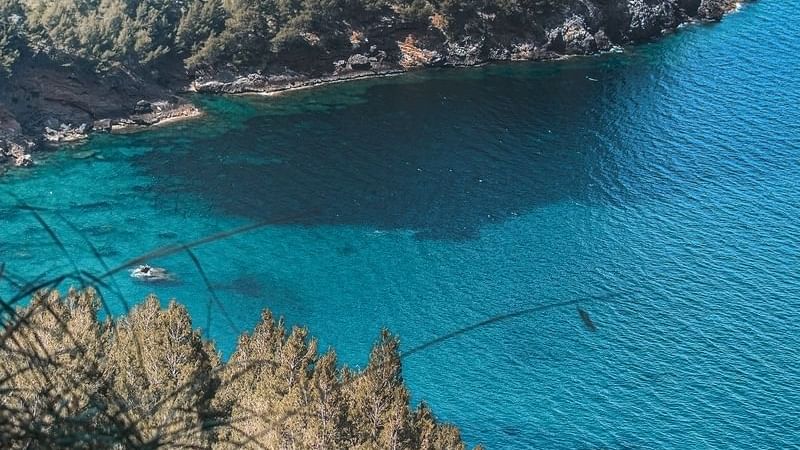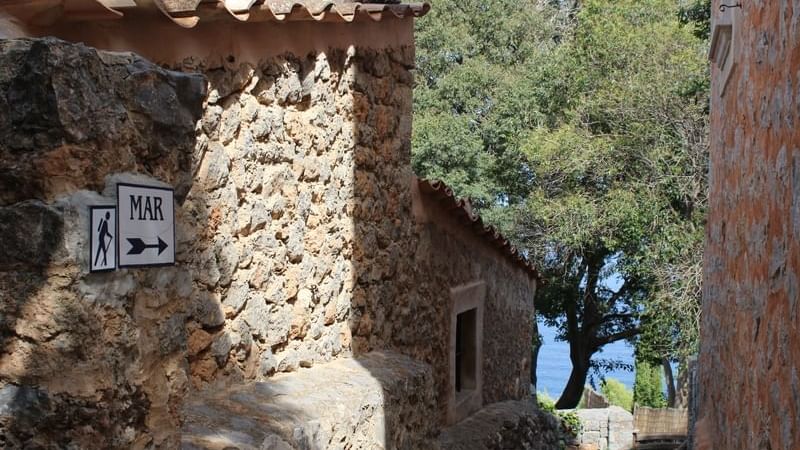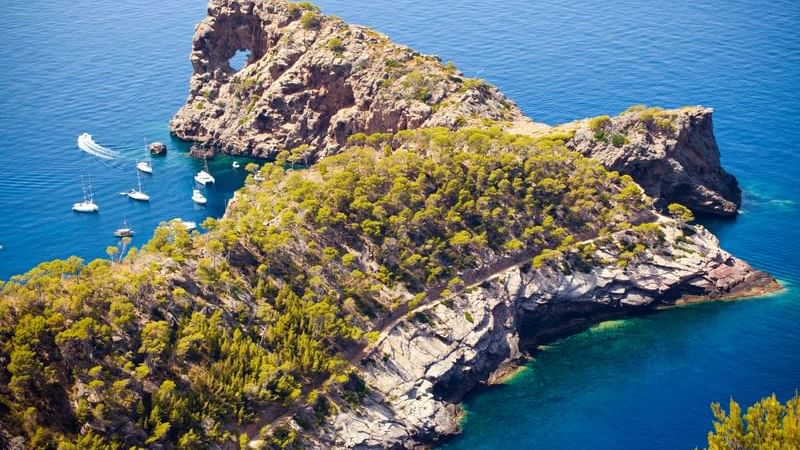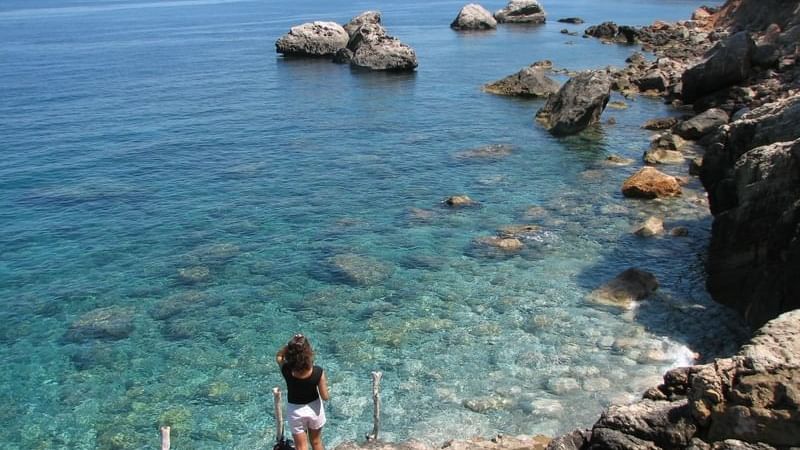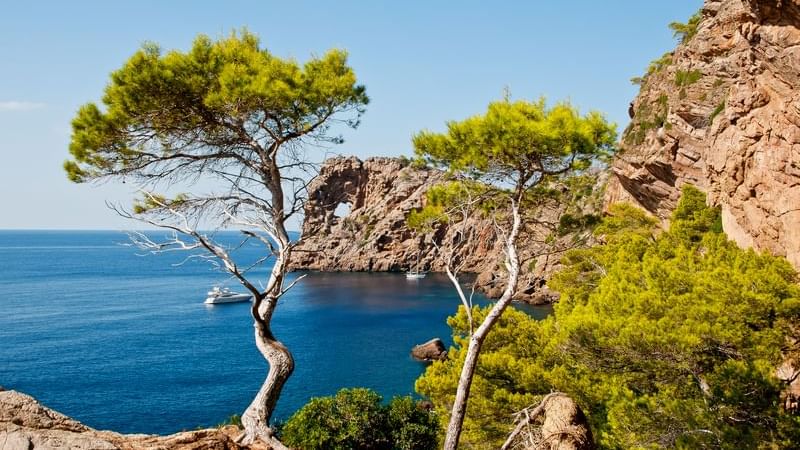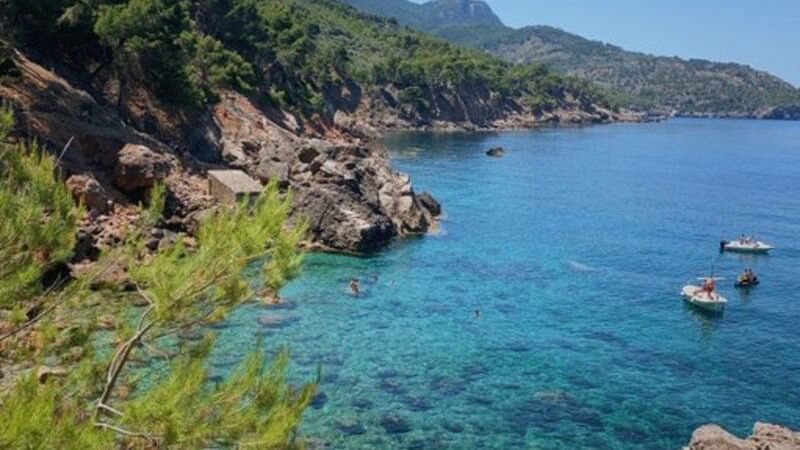 Port de Sóller is a unique place to enjoy the Mediterranean Sea one hundred percent during the summer months. Its two beaches, its activities, its sunsets, its magical spots full of small hidden coves, etc. Undoubtedly a perfect destination for these hot months. And it is precisely these unforgettable corners and places that are not so touristy or well-known that we would like to talk to you about today. Places that are perfect to discover the essence of the Mediterranean and feel its nature, its peace and escape from the world in a pure and authentic natural environment. Places that end up forming part of our best memories of our visit to the Sóller Valley. So today we bring you two of these wonderful places: Alconàsser and Es Canyaret.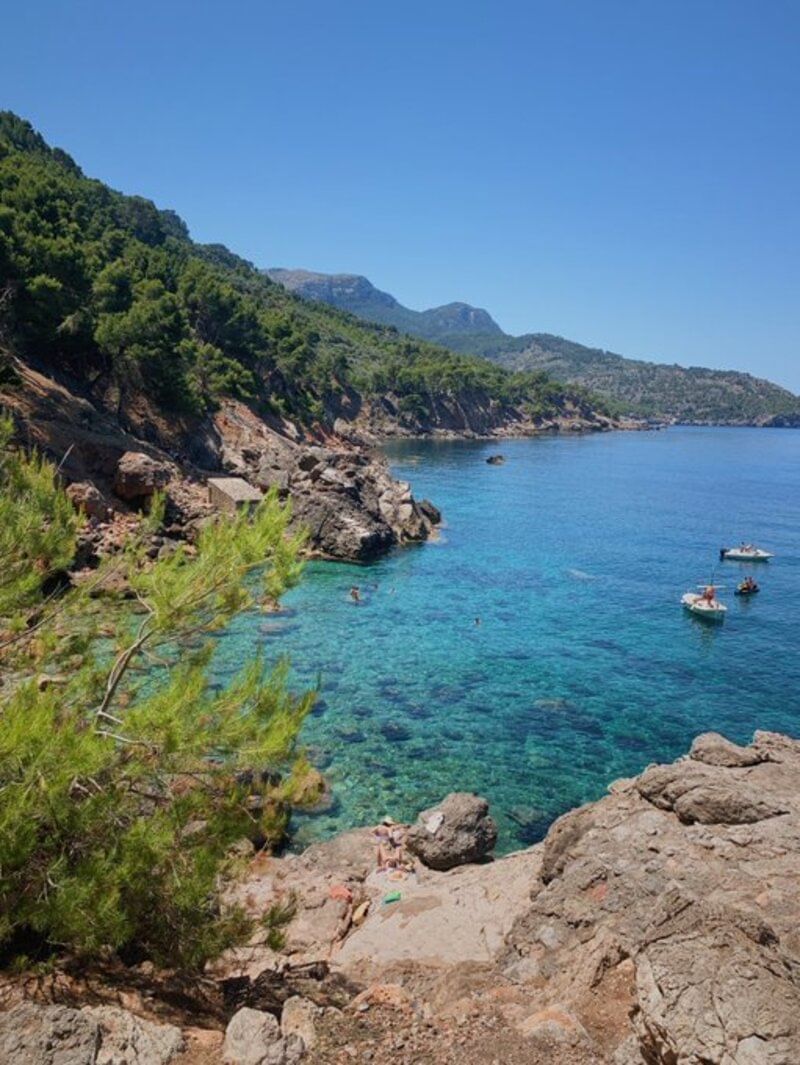 SUMMER EVENINGS IN ALCONÀSSER
Alconàsser is a small rocky cove located in the urbanization of Béns d'Avall, 20 minutes by car from the Aimia Hotel. So we propose two different ways to reach and discover this magnificent and picturesque cove. The first option to get to Alconàsser is by car or motorbike. To do so, leave the Aimia Hotel in the direction of Deià along the main Sóller road until you turn off onto the road that links Sóller with Deià and go up until you reach a sharp bend to the left. At this point the road changes from uphill to downhill and there is a sign indicating the Béns d'Avall housing estate on the same bend. So take this exit and go down to the end of the road to park next to the Es Béns d'Avall restaurant. Once there, we will take a small path on foot, which will reveal the fantastic cove of Alconàsser. After discovering the place from above, we will go down until we reach the side of two typical dry docks of the north coast of Mallorca. Buildings full of history and tradition that are used to store boats, fishing tackle and all kinds of utensils necessary for fishermen. This is a true Mediterranean paradise. Salt water, sun, peace and quiet. So all we have to do is choose our favourite spot and relax in the Mediterranean Sea, in its turquoise blue water and surrounded by nature. It is important to point out that Alconàsser is an unspoilt cove, usually frequented by the inhabitants of Sóller and Deià and not very touristy. For this reason, we recommend that you bring everything you need: food, drink, diving goggles, sun protection, jellyfish ointment, etc.

Although it is true that the journey to get there is not one of the most comfortable, it is well worth visiting this cove and discovering the essence of the Mediterranean like never before. Although if going by land does not convince you, we bring you another even more immersive and special option to visit this marvellous place and live the summer to the fullest on the north coast of Mallorca: visiting Alconàsser by private boat.

In the Port of Sóller there are several companies that rent out pleasure boats with and without skipper. Companies such as Sollermar offer boats that are perfect to enjoy the sea to the full and have exclusive access to magical corners of our coast such as Alconàsser, Es Canyaret, Ses Cambres, Sa costera, Tuent, etc. So this is undoubtedly a fantastic option for sea lovers. We leave the port on the port side in the direction of Deià in a journey of about 15 minutes in which we can discover very peculiar places such as "Sa Cova d'es Pintor" - a natural cave that we can see thanks to some stone stairs that lead to it and in which, according to legend, a local painter in love with the sea lived; or "Es Gall", a natural rock formation in the shape of a cockerel. This rock indicates the arrival at Alconàsser. This is just after the rock on the port side. So when you get there, all you have to do is approach the cove, drop anchor and start to feel nature.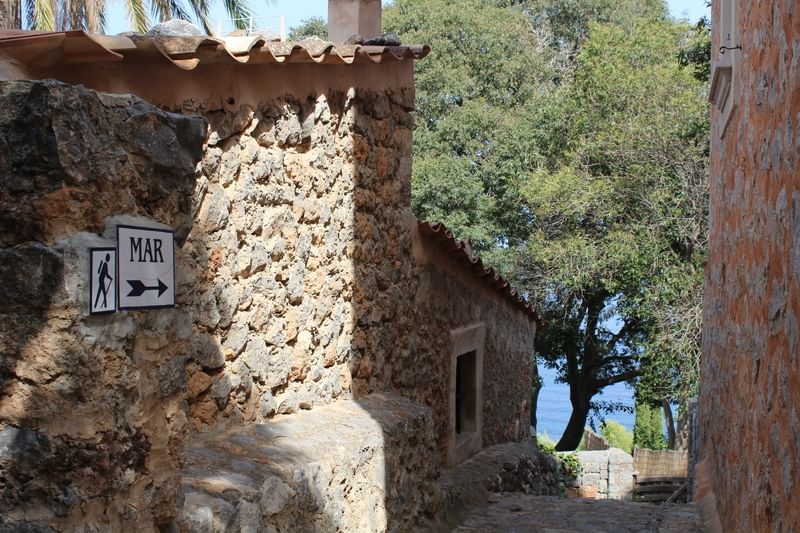 It is important to note that just in front of the cove, about 15 metres from the shore, there is a shallow underwater rock that we must take into account when approaching with the boat, as the rock is about 30 cm from the surface. However, we do advise you to dive close to this rock to enjoy the underwater life and to climb on it with a soft drink in your hand. A unique experience that you must discover. Another important feature is that, being an unspoilt cove, there is a lot of underwater life and, for this reason, it is a cove where there are sea urchins. Sea urchins live on the rocks and, although they are harmless, they do have spikes that can be very painful if we step on them, so we recommend swimming with water shoes, a comfortable and practical solution that will help us both to avoid getting pricked by the urchins and to walk over the rocks on the shore.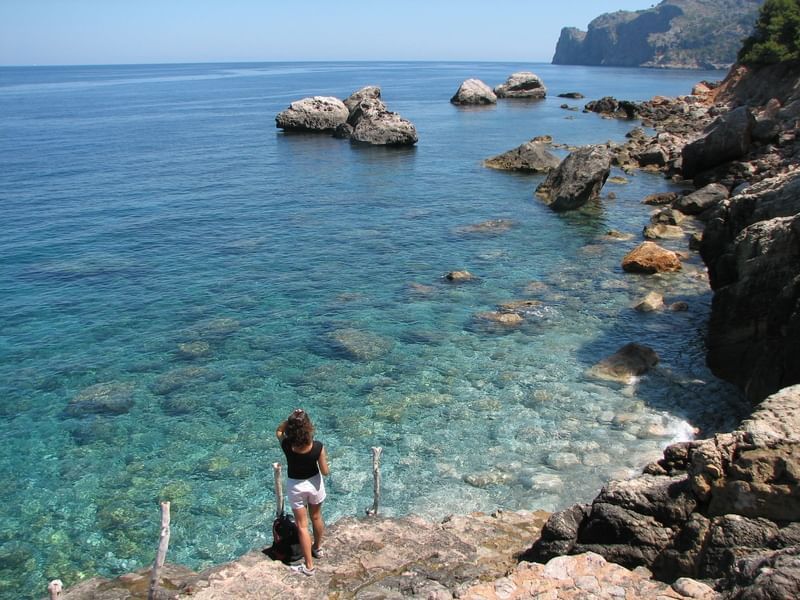 ES CANYARET AND SA FORADADA
If you want to discover more magical corners of the north coast of Mallorca, a boat trip is the perfect option. After enjoying Alconàsser, continue sailing in the opposite direction to the Port of Sóller, towards Deià, and after sailing 5-10 minutes from Alconàsser, you will find another dream Mediterranean paradise: Es Canyaret. Es Canyaret is the cove of Llucalcari, a small llogaret at the foot of the Tramuntana mountain range. Like Alconàsser, it is a cove of stone, but with several peculiarities that make it a unique place. Es Canyaret has several natural springs where we recommend that you cover yourself in the mud that surrounds them, a perfect mud to moisturise your skin before refreshing yourself in the fountain. In addition, Es Canyaret has a natural swimming pool located to the right of the cove, a magical place perfect for disconnecting and cooling off. It is located next to a natural cave where you can swim safely. You can also visit Es Canyaret by car. All you have to do is continue along the road that links Sóller and Deià until you see the turn-off to Llucalcari, where you park and drive down to the cove following the signs there. It is important to point out that parking in Llucalcari is quite complicated, so we recommend you to go by motorbike or by bus - there is a bus stop right at the beginning of Llucalcari. It is also worth mentioning that Es Canyaret is a nudist cove, although everyone is free to do as they please. Finally, if you want to end your Mediterranean day on the north coast of Mallorca in an unforgettable way, we recommend that you continue sailing in the direction of Deià, leaving Cala de Deià to port, until you reach Sa Foradada. A majestic and iconic rock that is another idyllic spot where you can anchor for a swim and enjoy the sunset from the sea. Undoubtedly an unrepeatable experience. On the other hand, if you go by motorbike or car and want to enjoy Sa Foradada, you can continue from Llucalcari in the direction of Deià, passing through the village until you reach the Mirador de sa Foradada, where there is a small Mediterranean bar where you can also enjoy the same sunset.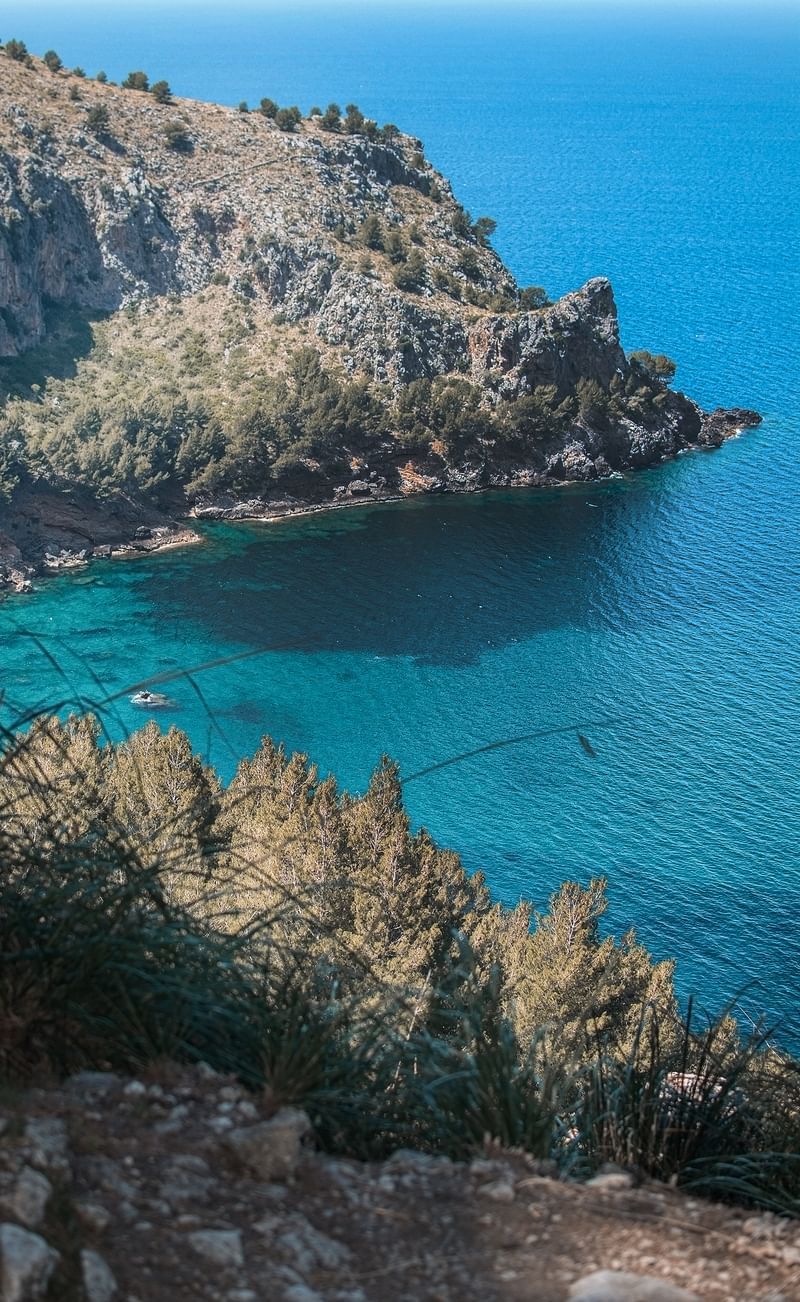 Finally we will return to the Port of Sóller, by boat or vehicle, to end our day with a fantastic Airecel dinner at Airecel Restaurant before going to rest after having lived a magnificent and exclusive experience in the heart of the Mediterranean. An experience you will never forget. If you are staying at the Aimia Hotel do not hesitate to ask any questions you may have to our reception team, who will be delighted to help you organise your perfect day on the north coast of Mallorca and resolve all your doubts.
USEFUL INFORMATION
| | |
| --- | --- |
| Don't forget in your backpack: | Water, food, sun cream, water shoes, diving goggles and jellyfish ointment. |