Discover Fornalutx, Biniaraix, Lluc Monastery and Sa Calobra
Excursion to Biniaraix, Fornalutx, the Lluc Sanctuary and Cala Sa Calobra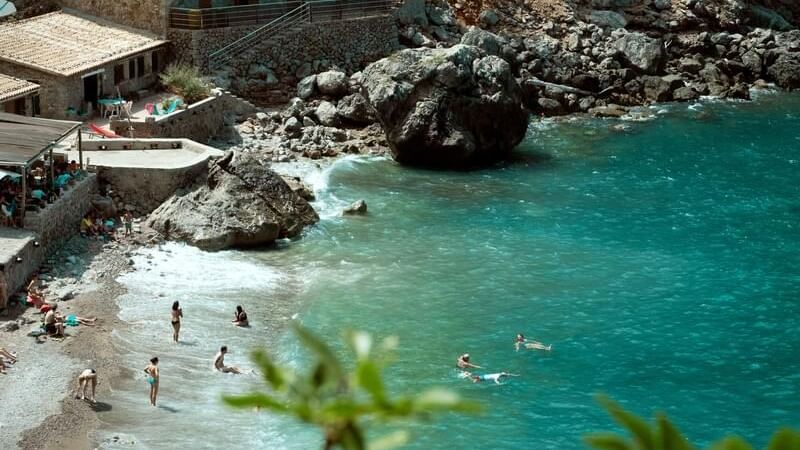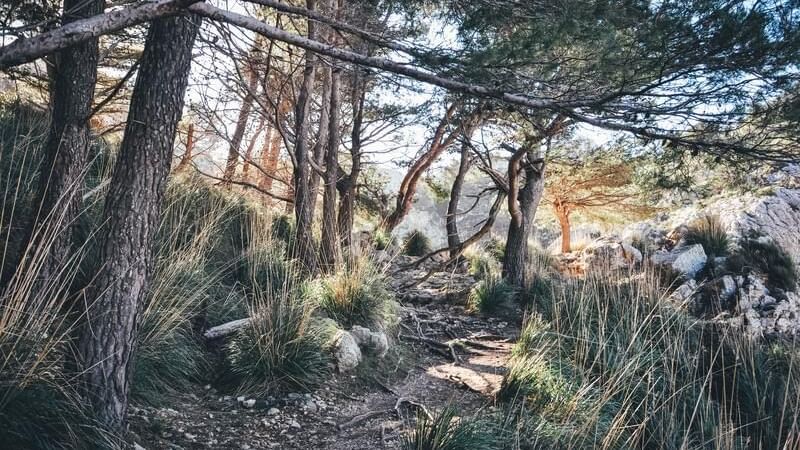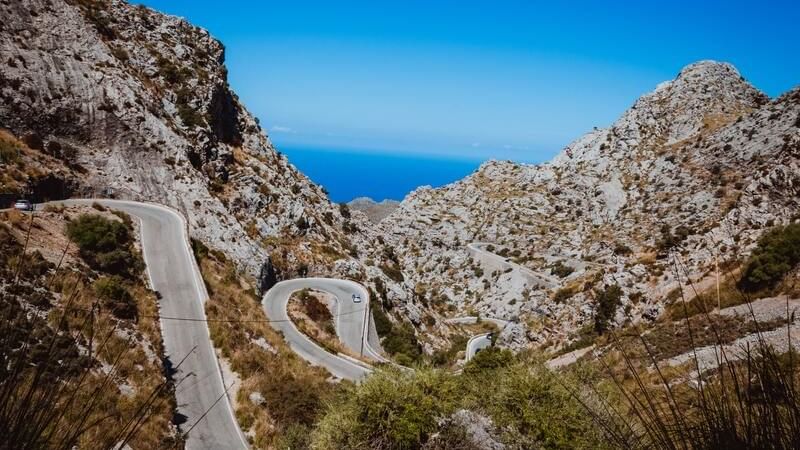 Would you like to discover the small and charming villages around Sóller? From the Aimia Hotel we suggest several excursions to discover the villages of Biniaraix and its famous Barranc de Biniaraix, the picturesque village of Fornalutx, in the heart of the Serra de Tramuntana. We also suggest some cultural visits to the Monastery of Lluc, a famous pilgrimage site with spectacular views, or a relaxing excursion to spend a day at the beach in Sa Calobra.
BINIARAIX AND ES BARRANC DE BINIARAIX
Biniaraix, a charming village or "llogaret" in the heart of the Soller Valley, is characterised by its lush green surroundings all year round and its orange and almond orchards.
We recommend a visit to Es Barranc de Biniaraix, located at the south-eastern end of Soller: a spectacular canyon sculpted by the waters and whose lands, which extend over hundreds of hectares, are dedicated to the cultivation of almond trees, olive trees and orchards from which the local produce sold at the local markets is grown.
The Barranc de Biniaraix, is one of the most famous and complete hiking routes that Sóller offers and also of the entire Serra de Tramuntana. With a duration of 4 hours and a medium difficulty, its beautiful landscapes make it the perfect route for an excursion or a day of hiking.
This mountain village in the heart of the Soller Valley has been named one of the most beautiful villages in Spain. Its stone streets and panoramic views of the Serra de Tramuntana make it a perfect day trip from Sóller.
It can be reached by car from Sóller along the Ma-10 road. To get there by bus, also from Sóller, you have to take line 212 of the TIB (Transport of the Balearic Islands). We recommend, in the case of the bus, to check the timetable to avoid inconveniences. At the reception of our Aimia Hotel we will be delighted to offer you all the information and routes necessary for you to enjoy the journey without any worries.
If you would like to have something to eat and take a break in Fornalutx, the traditional cuisine restaurant Es Turó is a great option: extensive menu and local products.


SA CALOBRA COVE
Sa Calobra is made up of two coves with crystal clear waters, surrounded by impressive cliffs, crossed by a torrent: the Torrent de Pareis.
The first cove of Sa Calobra is only 30 metres long and is made up of pebbles and white sand. It has a decent car park where you can rest and have a refreshing drink or a snack by the sea in one of its small and picturesque restaurants.
The second cove of Sa Calobra is the largest and most remote: it is 100 metres long and its access is through a slightly secluded path, but it is worth it to swim in its turquoise waters, surrounded by pure nature.
If you decide to make an excursion to this beach, you will need to bring parasols, towels and everything you need to spend a pleasant day by the sea, as there are no sun loungers for hire, nor are there any water sports that might disturb the calm of this almost secret spot.
How to get to Sa Calobra?
From Aimia Hotel, we recommend you to get to Sa Calobra by rental car due to the poor availability of train and bus schedules.
However, the roads leading to Sa Calobra are somewhat difficult to manoeuvre. You should drive slowly while enjoying the spectacular views.
Another way to get there is by ferry, from Port de Soller. Barcos Azules has a fleet of boats that sail several times a day during the summer months.
Another idea for cycling lovers is to go by bicycle: the round trip from Sa Calobra is one of the most emblematic and challenging cycling routes with its 9.5 km of ascent. Right in Port de Sóller you can rent a bicycle and discover the landscapes that Mallorca offers, especially in the Serra de Tramuntana.
MONASTERY OF LLUC
The Sanctuary of Santa María de Lluc (Lluc Monastery) is located in the municipality of Escorca, just 47 minutes by car from Sóller. It is one of the island's sacred pilgrimage sites since the Virgin of Lluc, the patron saint of Mallorca, lived there.
We suggest taking a walk outside the Lluc Monastery and enjoying its impressive views of the Sierra or visiting its interior, as well as the Lluc museum. For hiking enthusiasts, there are two very interesting routes to do on foot: Cometa dels Morts and Es Camell.
If they have the opportunity to be there at 1:15 p.m. they will be able to enjoy listening to La Salve sung by the escolanía, popularly known as Els Blauets de LLuc.
From the Aimia Hotel we have suggested some proposals to discover in one day Biniaraix and its famous Barranc de Biniaraix, Fornalutx, with its beautiful cobbled streets, the Monastery of Lluc and its panoramic views of the Serra de Tramuntana and Sa Calobra, a quiet cove that can be accessed by ferry from Port de Sóller. At reception we will be happy to assist you.