VISIT MENORCA BY BOAT FROM ALCUDIA | 2-DAYS GETAWAY GUIDE
Discover the Best of Menorca in 2 just Days starting from the Aimia Hotel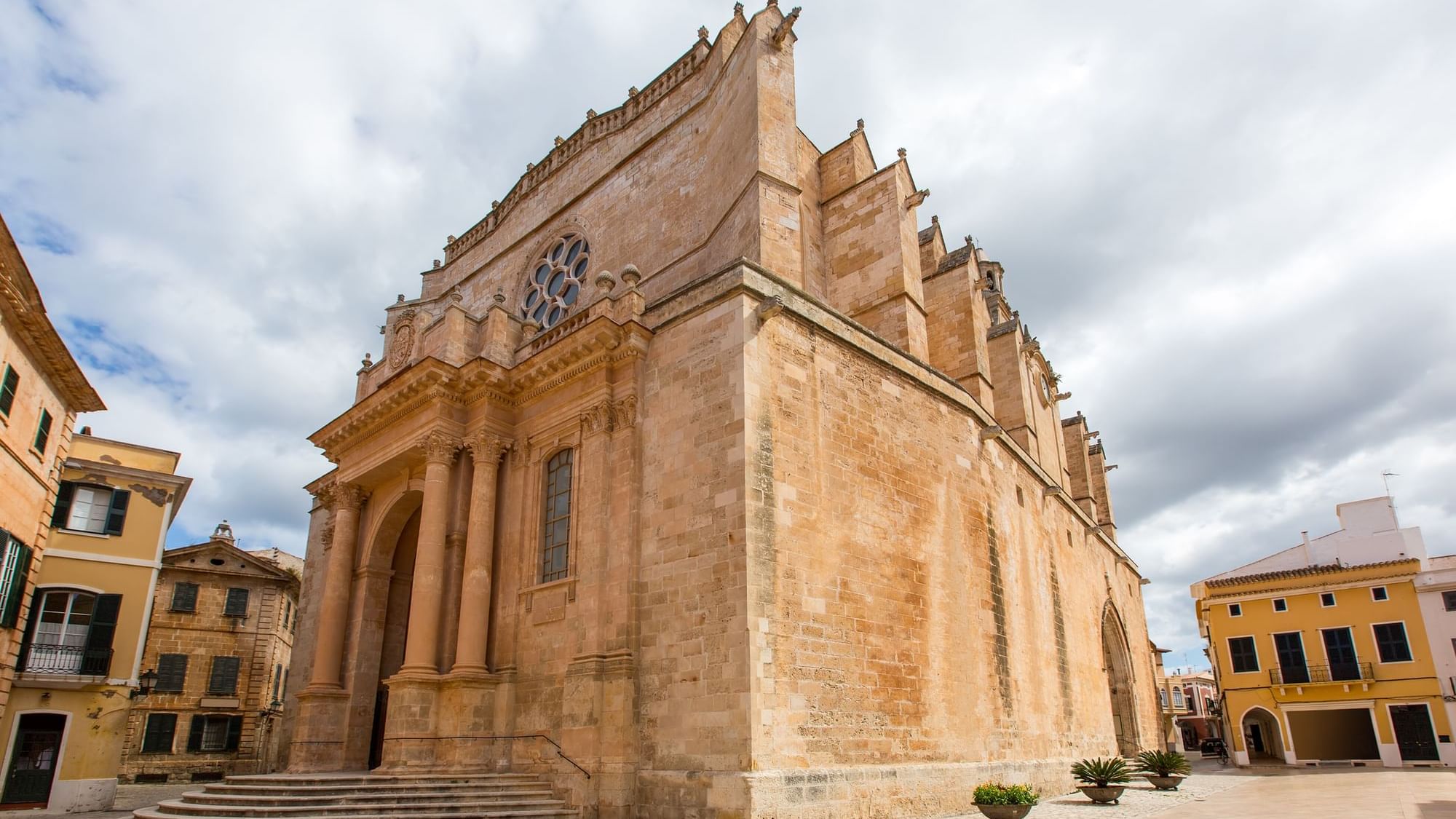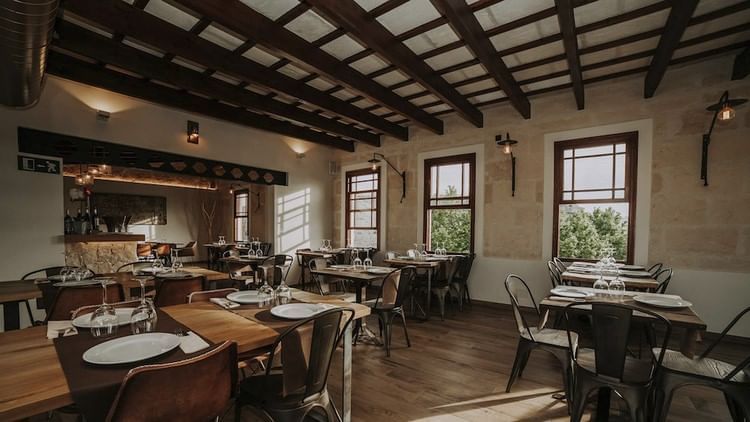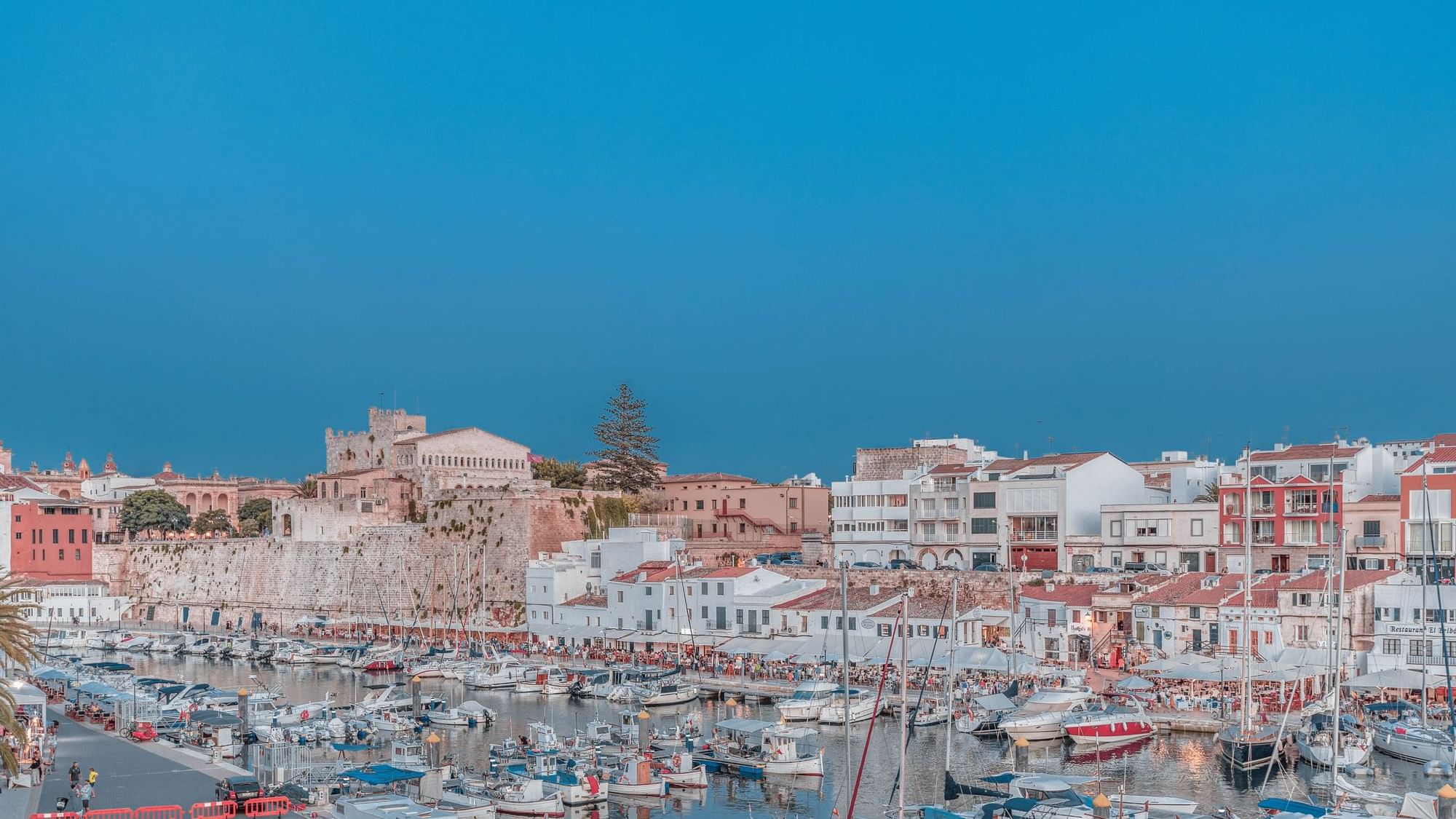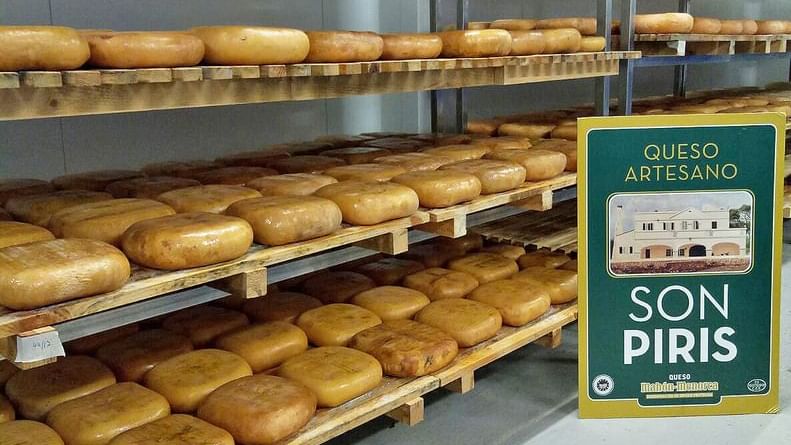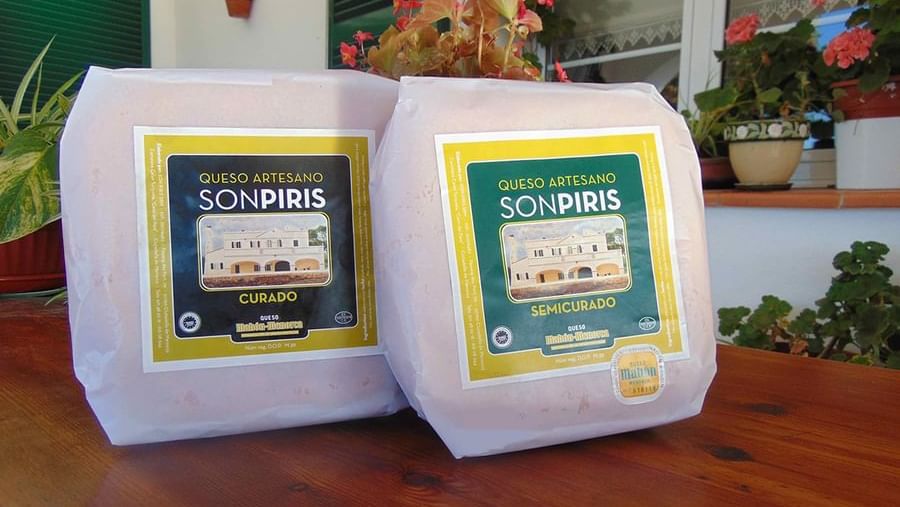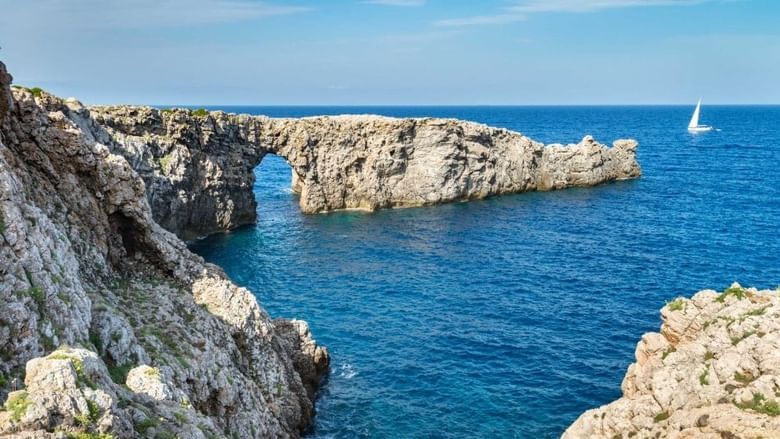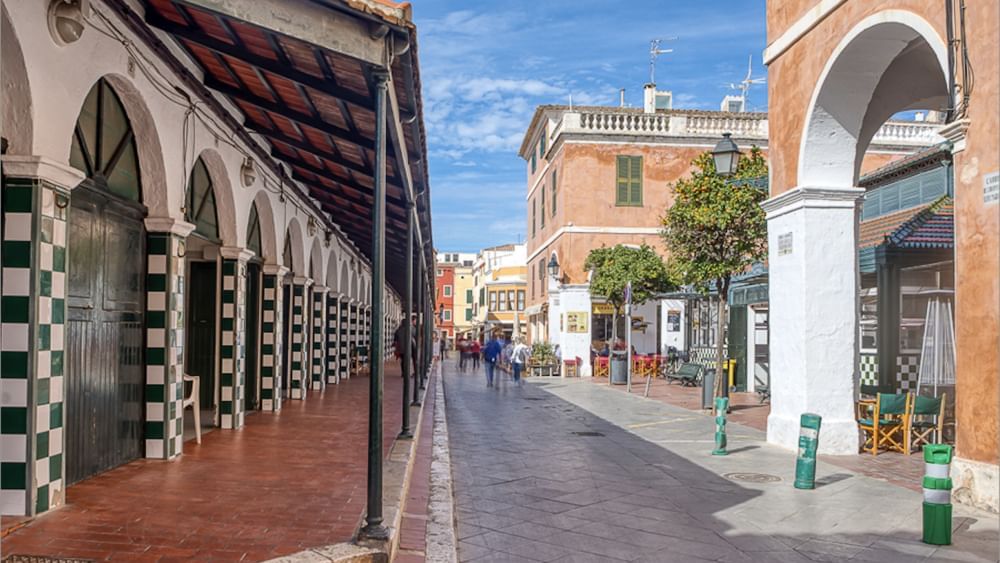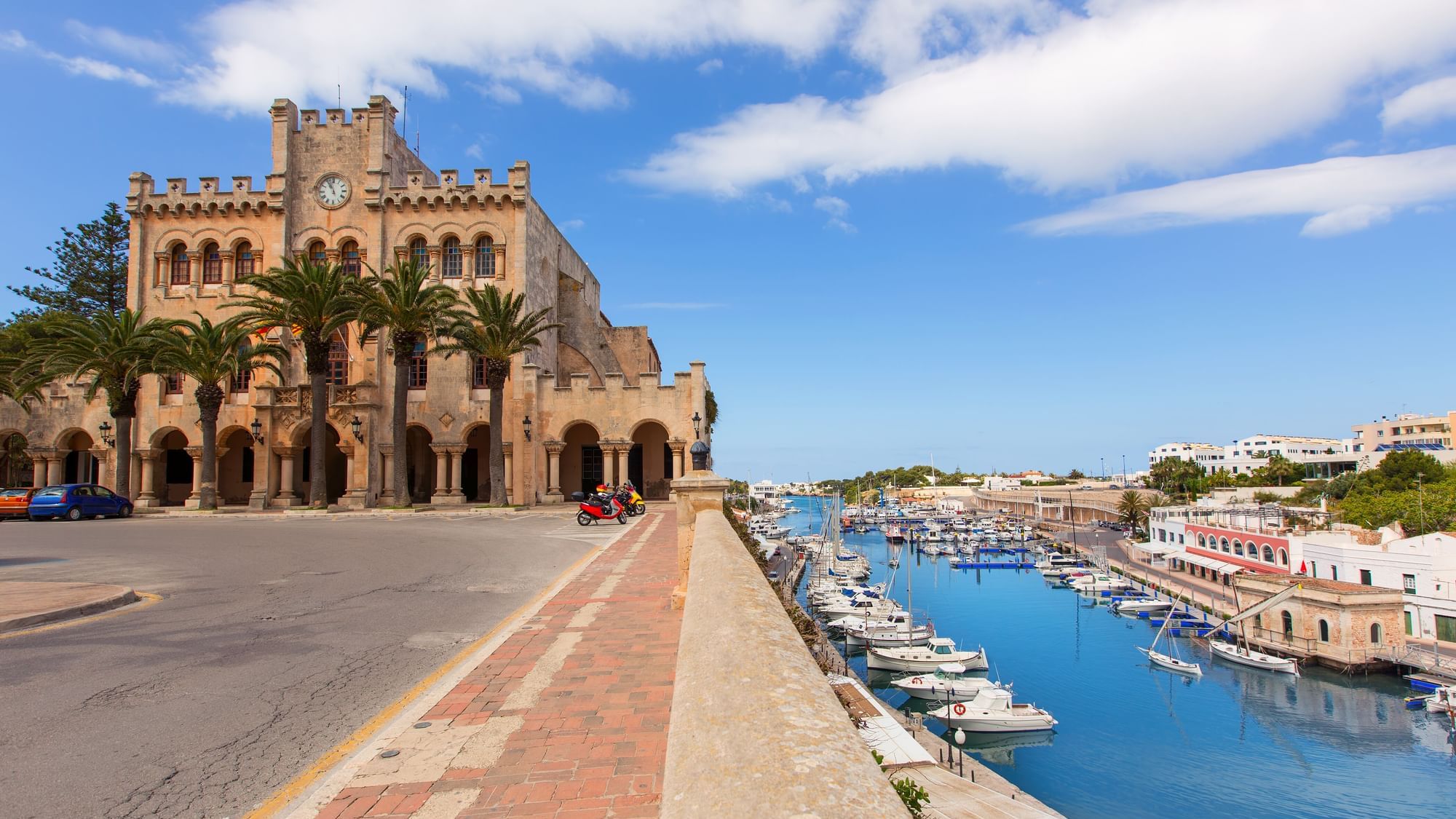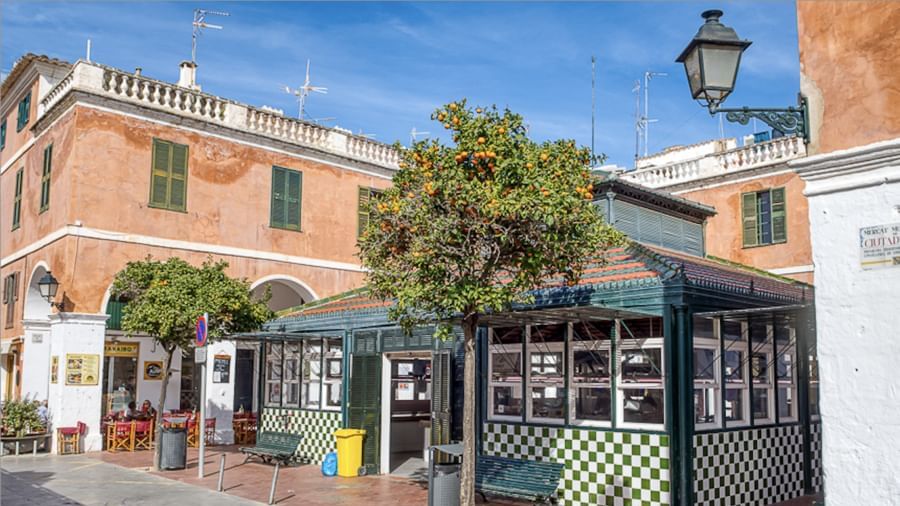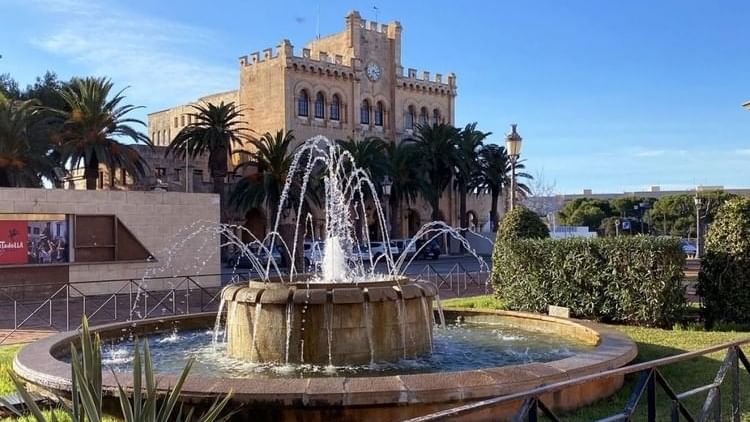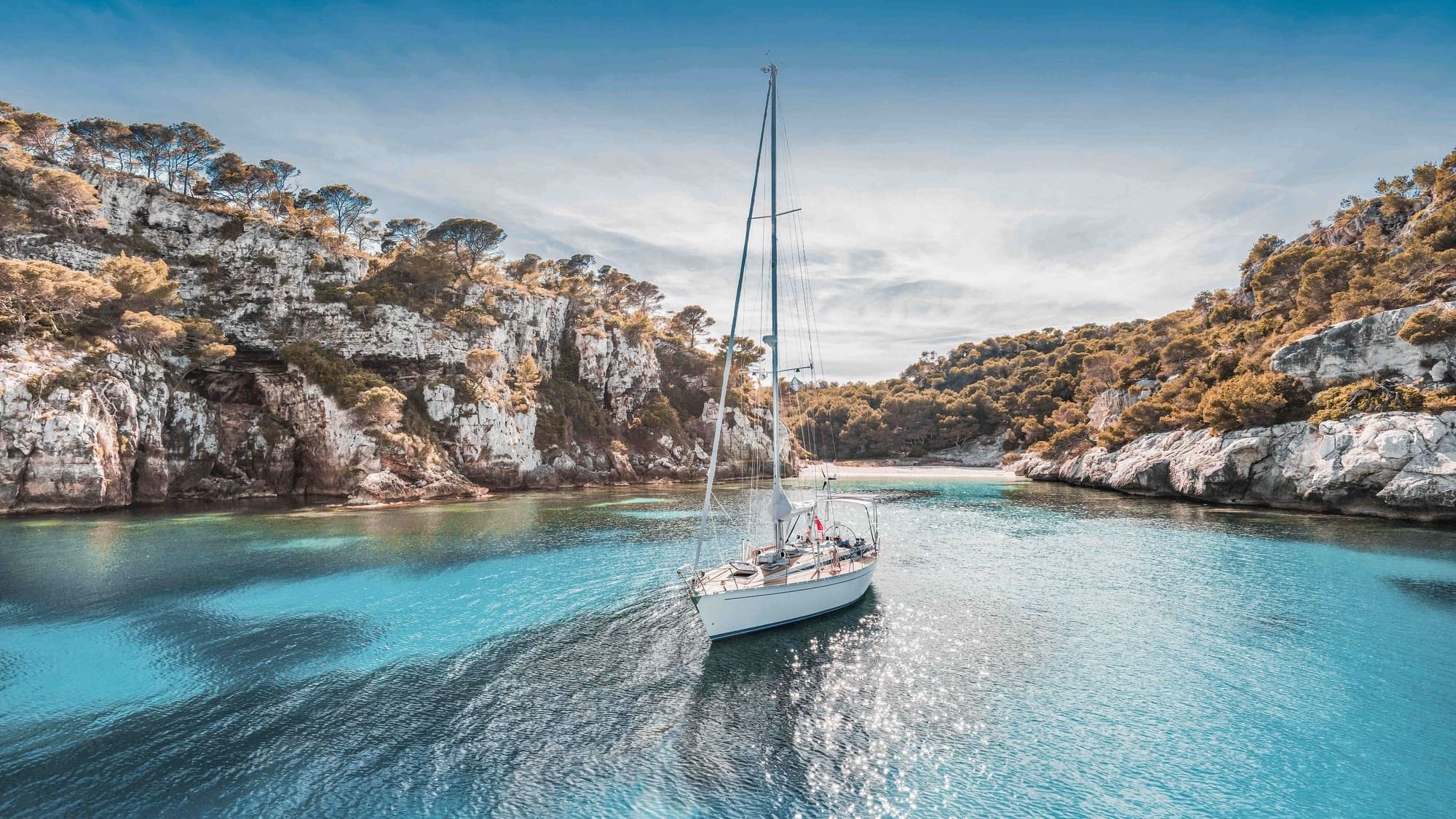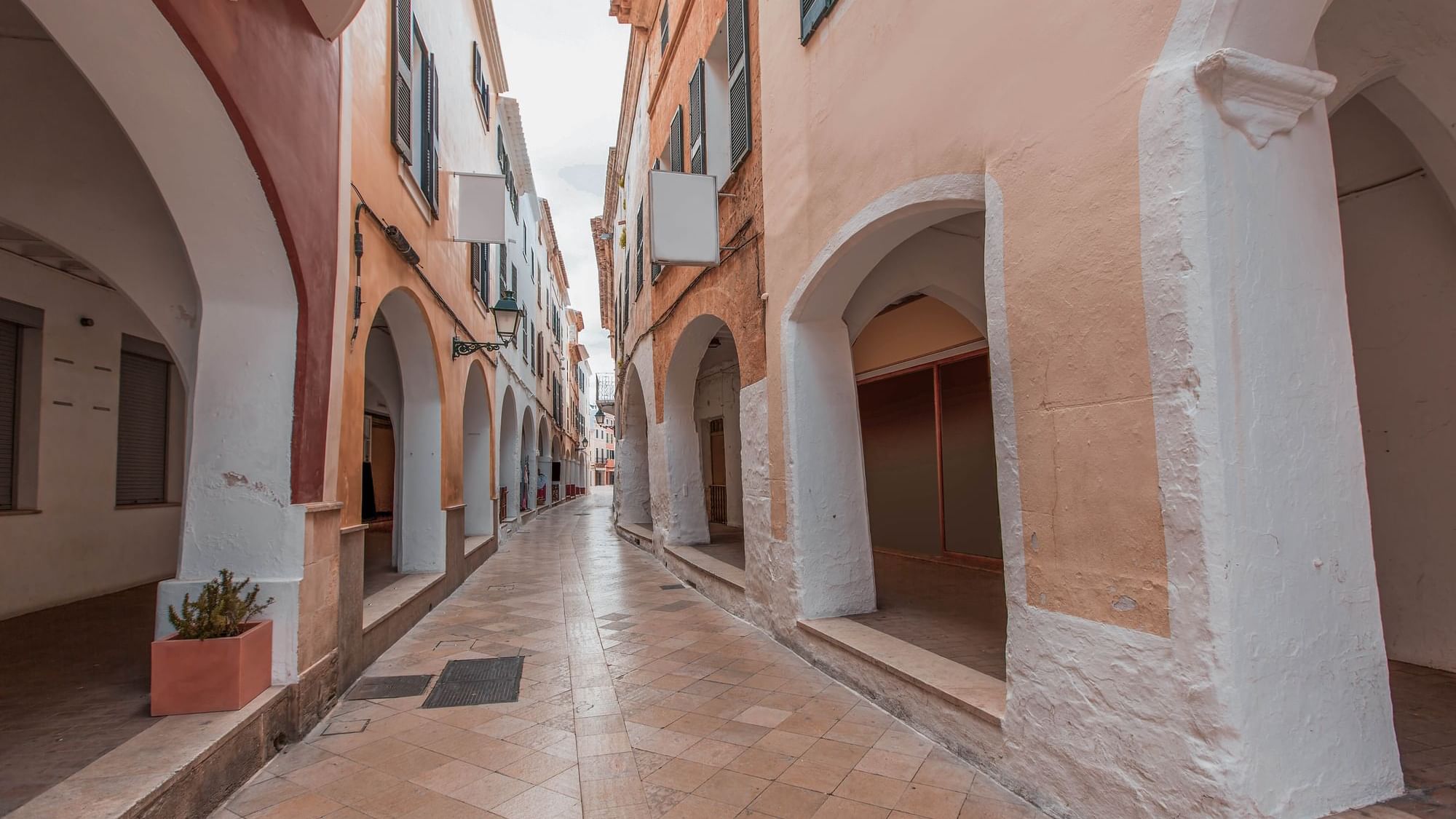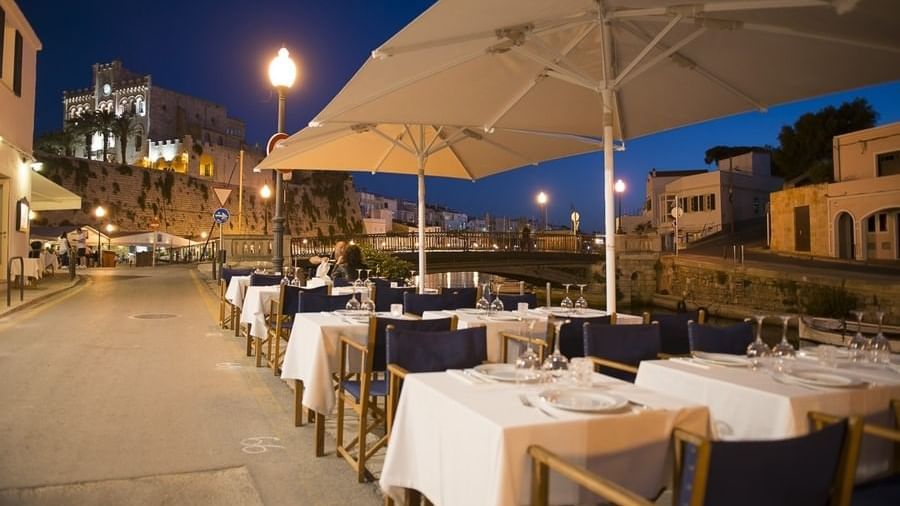 Discover the Breathtaking Balearic Archipelago: 4 main islands - Mallorca, Menorca, Ibiza, and Formentera, along with smaller islets like Cabrera or Sa Dragonera, collectively craft the mesmerizing geography of this Mediterranean haven. Unlike other destinations, this archipelago stands out for the proximity of its islands, making it easy to explore the Balearics fully with ample time on hand.
For a comprehensive experience, two essential modes of transportation connect these 4 islands year-round. In the skies, airlines like Air Nostrum (an affiliate of Iberia) cover the air routes between our islands. By sea, companies such as Baleària offer convenient inter-island journeys, with the option to bring along your own vehicle.
Today, we unveil an exclusive plan to elevate your Mediterranean encounter during your summer vacation in Puerto de Sóller: a 2-day getaway to Menorca!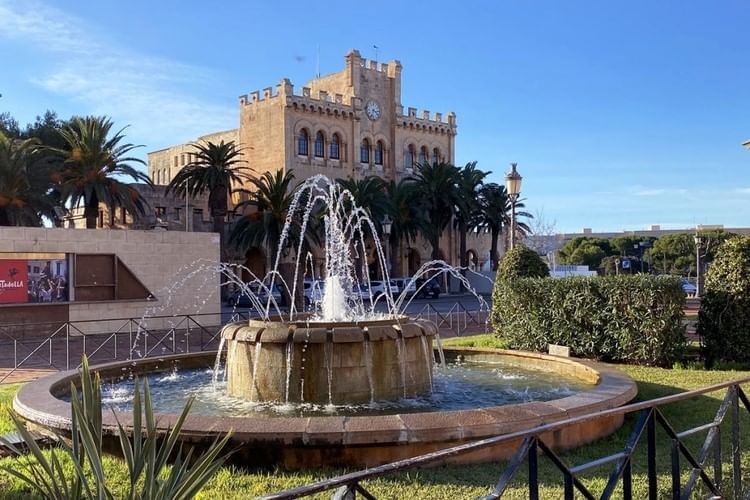 "DAY 1: FROM AIMIA HOTEL TO PORT OF CIUTADELLA"
To embark on this exciting getaway, strategic transportation planning is essential. In our case, we've chosen to embark on a boat journey with the reputable company Baleària. Departing from the Port of Alcudia, this option offers us the opportunity to reach Menorca with a 1-hour maritime journey, with our own vehicle on board. To ensure a seamless experience, we recommend obtaining our boarding passes and reserving space for our vehicle several days in advance through their website: www.balearia.com.
We'll set out from Aimia Hotel towards the Port of Alcudia, following a carefully optimized plan. Selecting the first departure of the day at 08:30 AM is advised to make the most of our getaway. Given that the Port of Alcudia is roughly a 50-minute drive from the Port of Sóller, we recommend leaving Aimia Hotel around 06:00 AM to ensure a relaxed and hassle-free journey.
Upon reaching the Port of Alcudia, we simply follow the instructions provided by Baleària's staff and comfortably board the ferry with our vehicle. After a 1-hour voyage across the Mediterranean, around 09:30 AM, we'll arrive at the Port of Ciutadella, where we'll relish in 2 unforgettable days in Menorca, all with the utmost comfort."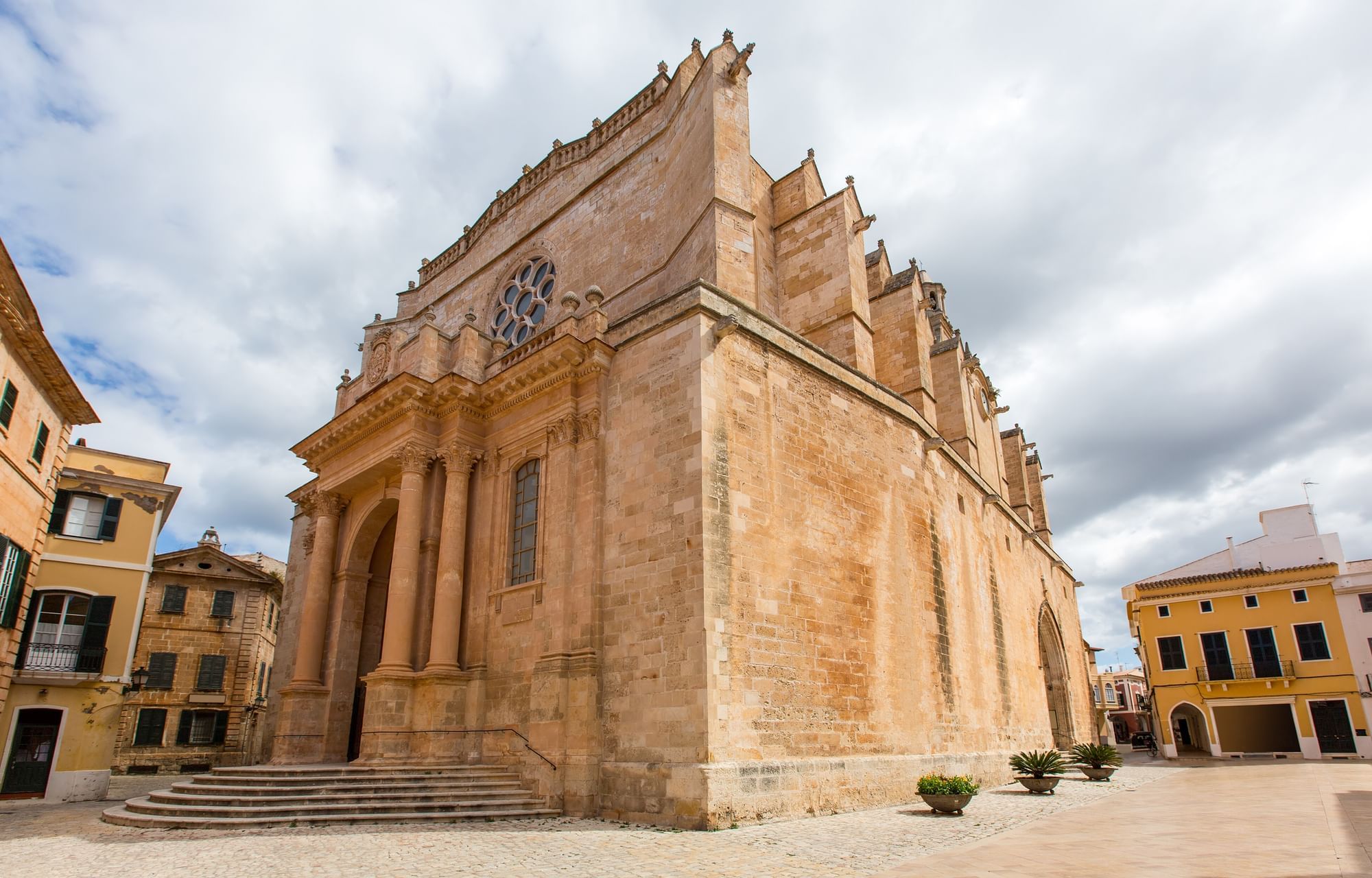 "PLAÇA D'ES BORN AND SES VOLTES: EXPLORING CIUTADELLA DE MENORCA"
Ciutadella de Menorca stands as one of the island's largest cities, alongside Mahó, Menorca's capital. Although the island is small and both cities are worth a visit, we recommend starting your exploration in Ciutadella if it's your first time on the island. After leaving Ciutadella's Port, let's head to the heart of the city: Plaça d'Es Born. This area is an ideal choice for your stay in Menorca, allowing you to immerse in the island's historic center and choose from a variety of hotels.
Once settled into the Plaça d'Es Born, which offers parking facilities, your journey through Ciutadella's center begins. This stately square acts as Ciutadella's focal point, from which a labyrinth of charming alleys and archways radiate. Rising in the center of the former parade ground is the Obelisk des Born, a 22-meter monument dating back to the 19th century. It commemorates the city's resistance and defeat by the Turks in 1558, during which nearly four thousand captives were taken to Constantinople. Facing the port, you'll find the City Hall. Originally a Moorish castle, parts of it still remain today, with its main façade dating to the early 20th century.
From here, continue your journey towards Ses Voltes along Carrer Major d'Es Born, a commercial street that passes by the Cathedral of Santa Maria de Menorca, leading you into Ses Voltes. This area boasts a collection of shops along a fantastic street lined with stone arches. Following Carrer de Josep Maria Quadrado will bring you to Sa Plaça Nova, a great spot to pause for a coffee.
After your break, resume your exploration of the old town, advancing until you reach Sa Plaça d'Alfons III. This square holds special significance for Ciutadella's residents as it's where the Festes de Sant Joan de Ciutadella, the island's grandest celebration, begins. Continue along Carrer de Sant Eloi and take a right onto Carrer d'Alaró. Through picturesque lanes, you'll find yourself on Carrer de l'Hospital de Santa Magdalena, located adjacent to Plaça de la Llibertat or Plaça del Mercat. This area is a must-visit, housing the municipal market and a collection of bars and restaurants. Ses Voltes has transformed into the beating heart of the city's local produce scene.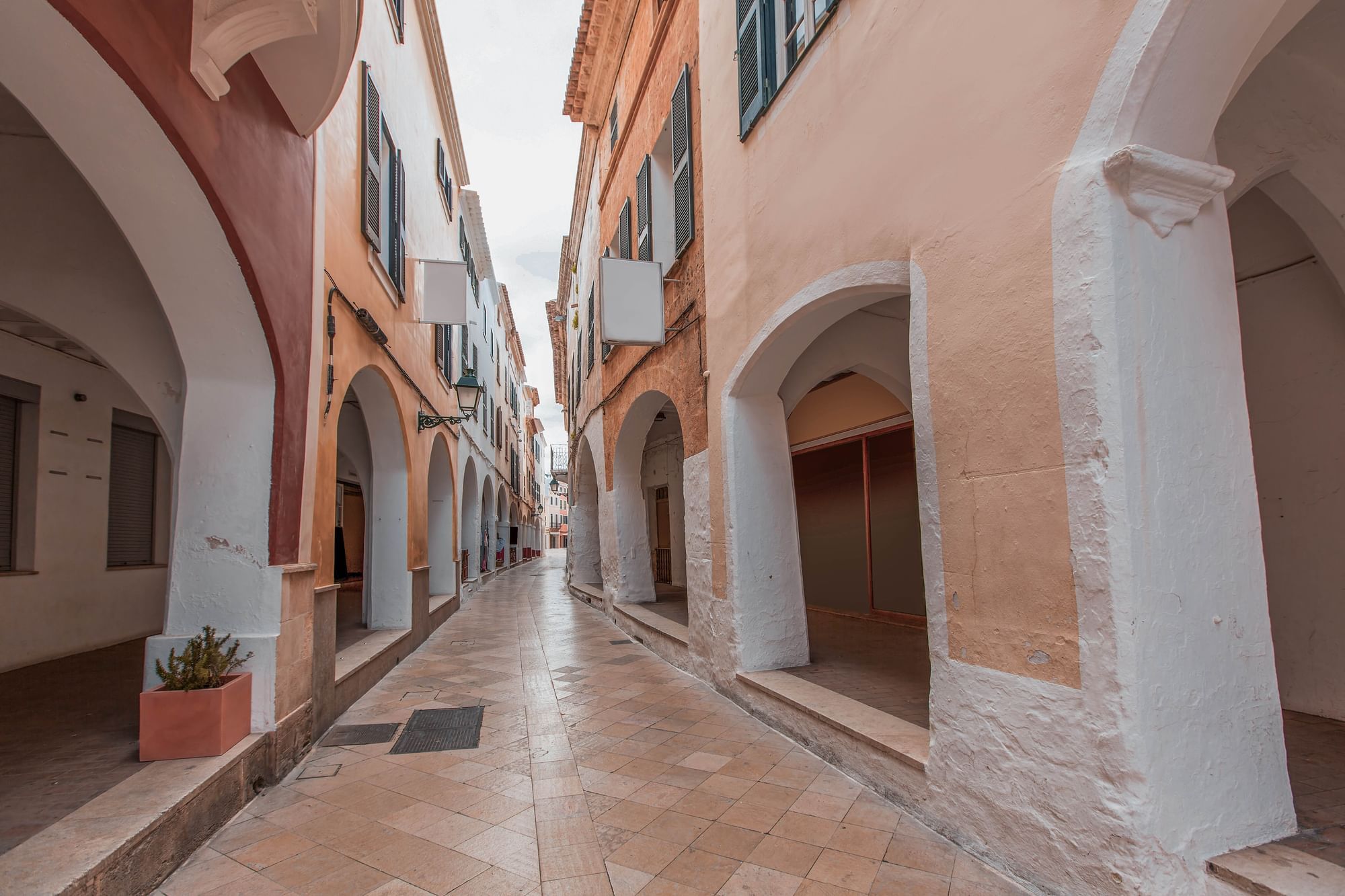 "DINING IN CIUTADELLA: A CULINARY JOURNEY"
After exploring the Market Square, it's time for a delightful meal, and we have a unique recommendation situated in Ciutadella's fishing port. We're talking about Restaurant S'Amarador. Nestled in the heart of the port, near the bridge, this restaurant offers an authentic seafood tradition and is one of Menorca's best spots for enjoying fresh fish. Their standout dishes include seafood rice, seafood stews, lobster delicacies, and island fish prepared on the grill or baked. Without a doubt, a 100% recommended dining destination.
Following our Mediterranean meal at S'Amarador, take a leisurely stroll around the Port area, one of the most historical harbors in the Balearic Islands. Its maritime significance dates back to the Middle Ages when Ciutadella was the island's capital during the Crown of Aragon era. However, it wasn't until the mid-19th century that the port was completed as we know it today.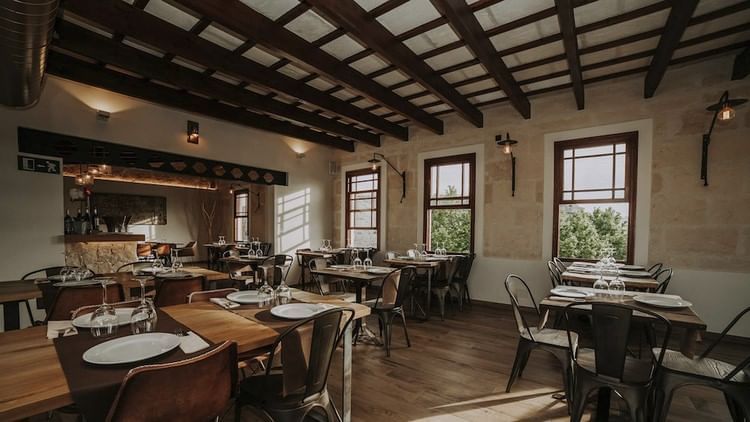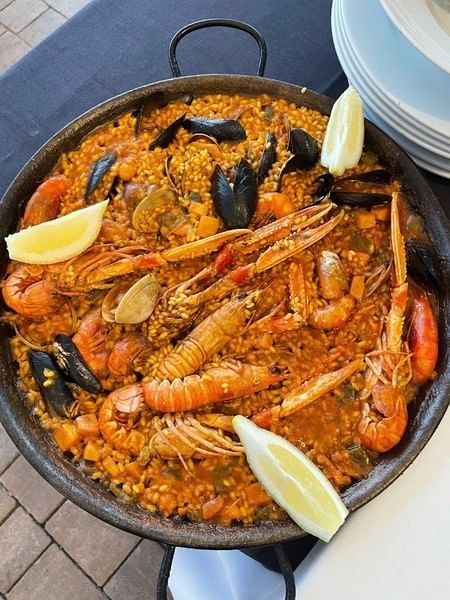 SUNSET IN CIUTADELLA
After our morning in the downtown area of Ciutadella, we suggest visiting a magical spot on the island by car: Pont d'En Gil. A natural stone bridge formed by the sea's erosion, allowing passage for small boats. It's a perfect spot to witness the sunset. Moreover, right next to Pont d'en Gil lies Sa Cigonya, an underwater cave measuring around 300 meters, considered a gem for divers from around the world.
Following our visit to Pont d'en Gil, we'll return to Ciutadella's center for dinner. We recommend Citadella Restaurante Pizzería. This restaurant is situated at the end of the Port, in the elevated zone, near the esplanade where els Jocs d'Es Plà take place during the Festes de Sant Joan de Ciutadella. You'll relish in homemade pizzas and pastas here, and you can even watch the pizzas being made in their traditional rotating oven since the kitchen is in plain view. Undoubtedly, it's the perfect place to conclude our first day in Menorca.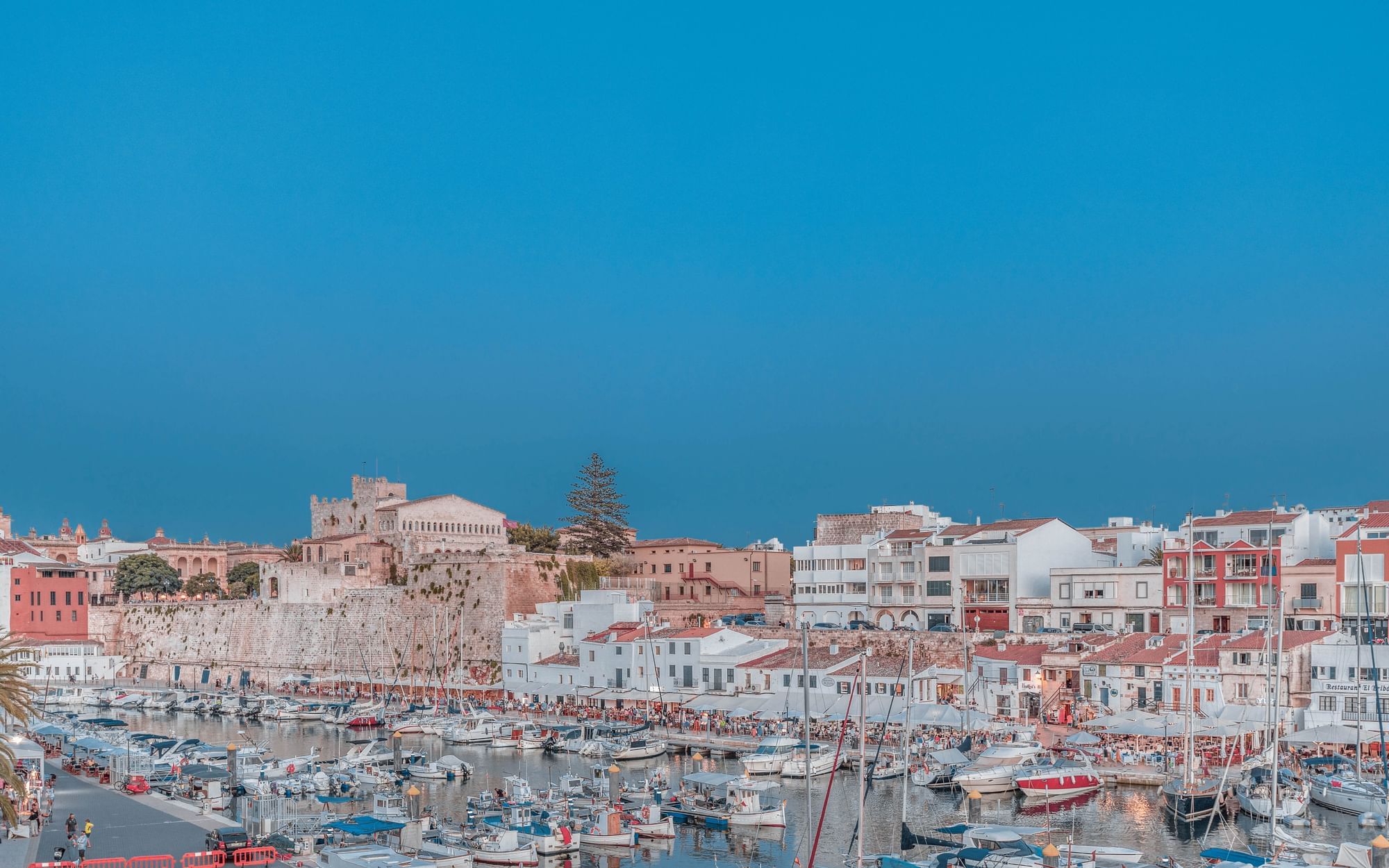 DAY 2: SON PIRIS CHEESE DAIRY AND TAPAS AT THE PORT
On our second day, we recommend you to explore one of Menorca's greatest products: cheese. To do this, you can visit one of the many cheese dairies on the island that offer guided tours and cheese tastings. One example is Son Piris Dairy, located a 19-minute drive from Plaça d'Es Born. Here, you can learn about the process of making Menorca cheese. This unique cheese boasts an intense and distinctive flavor, thanks to the local soil, the forage crops, the attentive care of the livestock, and the traditional production process. A one-of-a-kind experience to uncover the secrets of this cheese with its own personality and to understand the lifestyle of the island's farming families.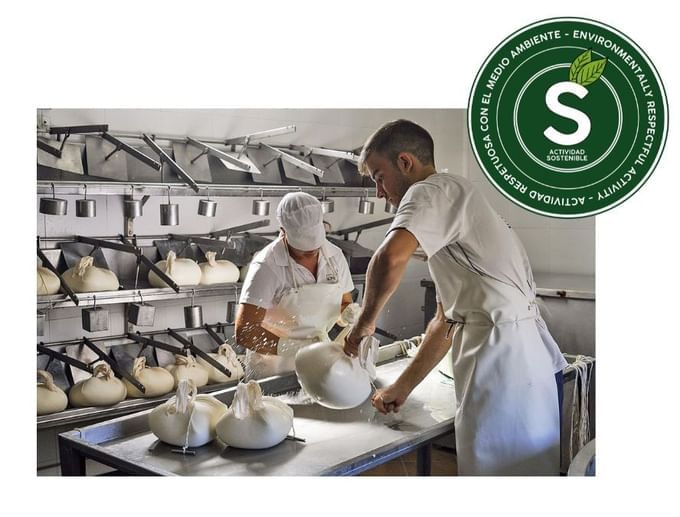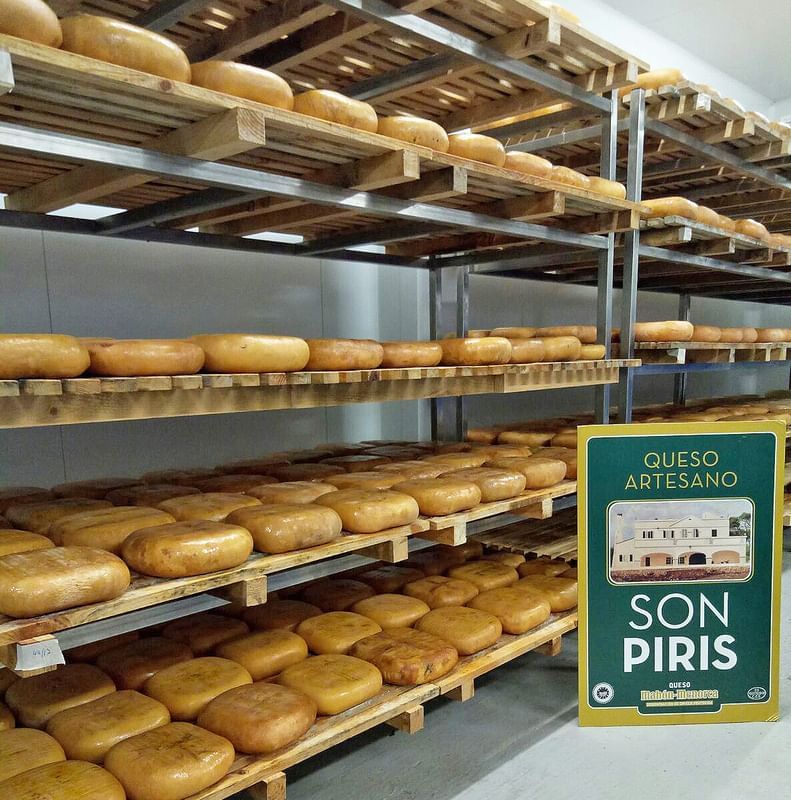 TAPAS AT BAR TRITÓN AND RETURN TO MALLORCA
After our visit to the dairy, we'll head back to the Plaça d'Es Born area for lunch before returning to Mallorca. We recommend dining at Bar Tritón, a bar known for its specialty tapas that's popular among the locals. Here, you can enjoy homemade tapas served in a traditional style or in a unique way that you can only find in this bar: as sandwiches. Bar Tritón is renowned for transforming various tapas into delicious sandwiches, including meatballs, sepia in sauce, tongue, ensaladilla, and many others. A place we highly recommend.
Finally, after our meal in Ciutadella, we'll begin our journey back to Mallorca. We'll head to the Commercial Port of Ciutadella to catch our ferry back to Aimia Hotel. After a short 8-minute drive from Plaça d'Es Born, we'll reach the Commercial Port to board the ferry. We suggest taking the 19:00h ferry back, which will allow you to arrive at the Port of Alcudia by 20:00h and at Aimia Hotel by 21:00h, so you can relax after our fantastic getaway to one of our islands.
Expanding and enriching our experiences during our travels is a unique privilege. It enhances our vacations and memories, and thanks to our geographical location, we can accomplish it in the Balearic Islands. So, if you're staying at our hotel and have the opportunity to embark on this excursion, or if you want to learn more about how to make the most of it, feel free to ask for more information from our reception team. They'll be more than happy to assist you in making an unforgettable experience!