Reopening Aimia Hotel on the 14th of May 2021
Take a break from the stress of Covid-19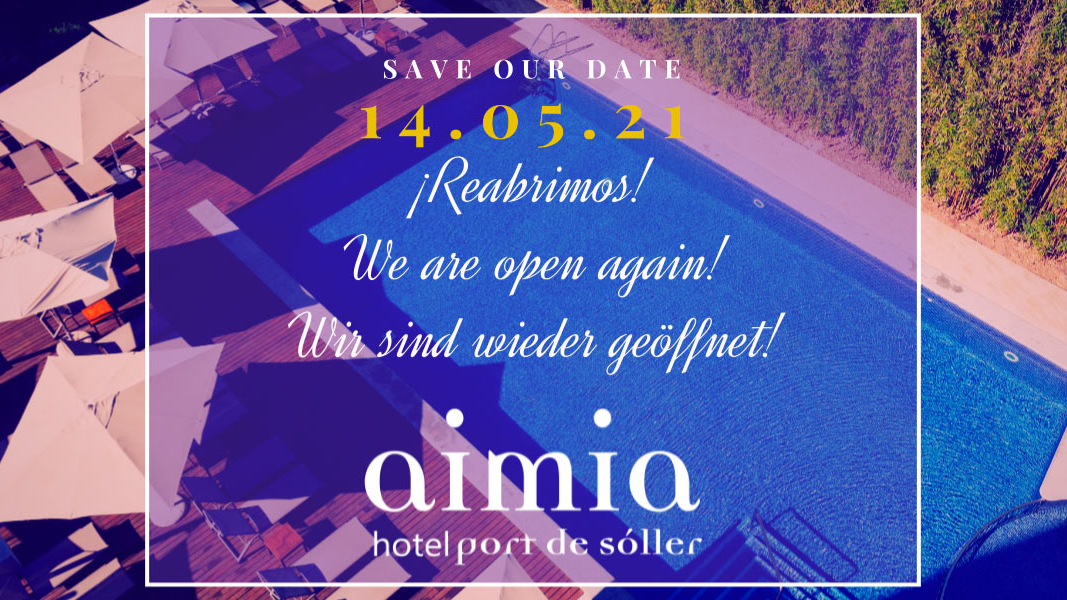 Dear friends,
I cannot tell you how pleased I am to announce that we will finally reopen the doors of our Aimia hotel on 14 May 2021.
Thanks to the increasing pace of the vaccination process worldwide, we are starting to see some positive signs, and we do not want to miss the opportunity to be able to welcome again our guests.
We are aware that the situation is not yet fully under control, but we also know that many of you need to get away from the stressful daily routine that the Coronavirus crisis has imposed on us.
We are very fortunate to be located in a privileged destination, one of the less crowded corners of Mallorca where Outdoor Activities abound, such as hiking, cycling, tennis, golf, diving and much more. All these activities also have the great advantage that they are not subject to the severe restrictions that apply to indoor activities, so you will finally be able to go to the beach or on the mountains, without the need of wearing a mask the whole time.
We have prepared a useful section on Covid-19 on our website where you can find all our safety measures to prevent any contagion in our hotel, as well as practical information provided by the Tourist Office of Mallorca that will help you plan your trip to Soller with more peace of mind.
To help you take your decision, we also have added a Special "Reopening Offer" with an exclusive 15% on our Flexible Rate.
We remain at your complete disposal to help you with any possible queries, please do not hesitate to contact us!
Warm Regards from Port de Sóller

Flavio Mirabella
Director of Hotel Aimia