Safety & Hygienic Measures | Covid-19
Please read if you have a booking or if you are planning to visit us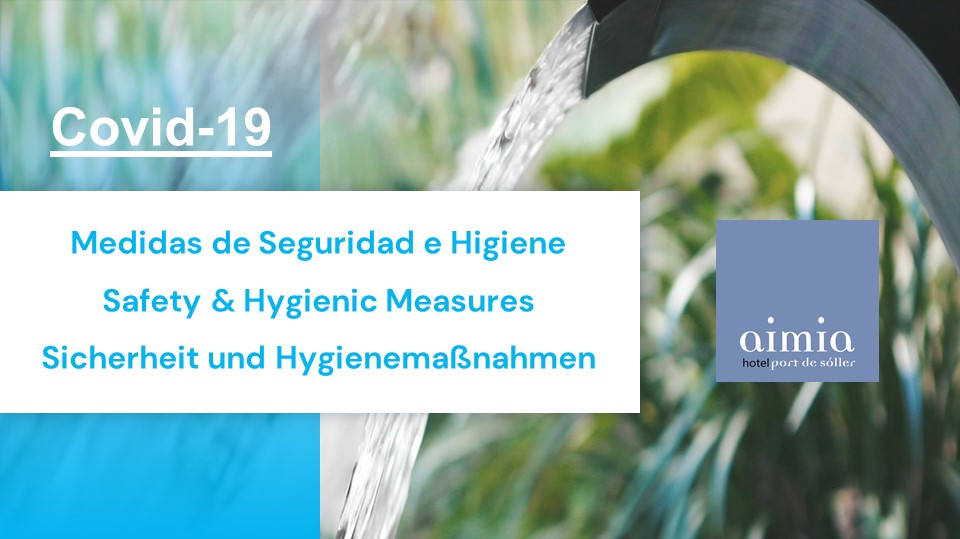 Dear Guest,
We have prepared this guide to summarize the main measures we have implemented at the Aimia Hotel to guarantee you a safe holiday while ensuring a safe working environment for our staff.
Please read it before your arrival at our hotel to find out what we are doing and to respect some basic rules instructed by the Spanish Ministry of Health.
As you will see in the next pages, we have reduced the capacity to ensure social distancing in our common areas (Min. 1,5 meters). For this same reason, we might have to implement a reservation system for the pool area, restaurant, spa and gym at times of greater occupation.
We apologize for the inconveniences this may cause you and we appreciate your understanding: your well-being and safety as well as that of other guests is our priority.
We also want to remind you that while the capacity of our common areas will be reduced, and we are sorry for this inconvenience. However, the unusual situation we are experiencing this season has greatly reduced the number of tourists on the island, giving you a unique opportunity to enjoy all that Mallorca has to offer you with much more space and tranquility.
We wish you a very happy holiday.
Flavio Mirabella
General Manager